The Living Room Treehouse
Elevated, spirit-lifting, eco-friendly waterfront treehouse retreat perfect for celebrating life & love in Charleston!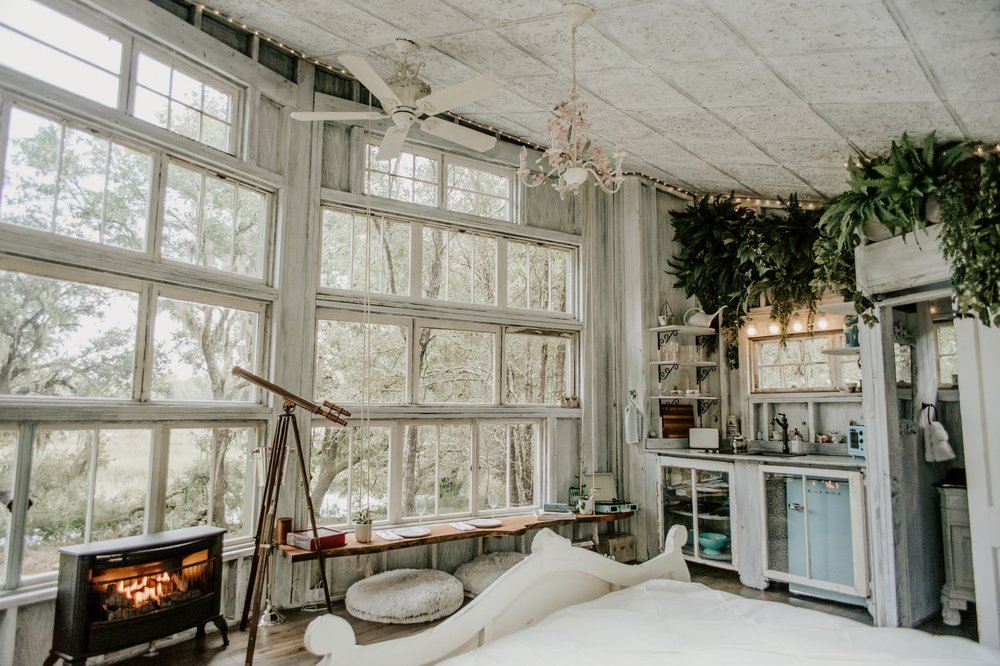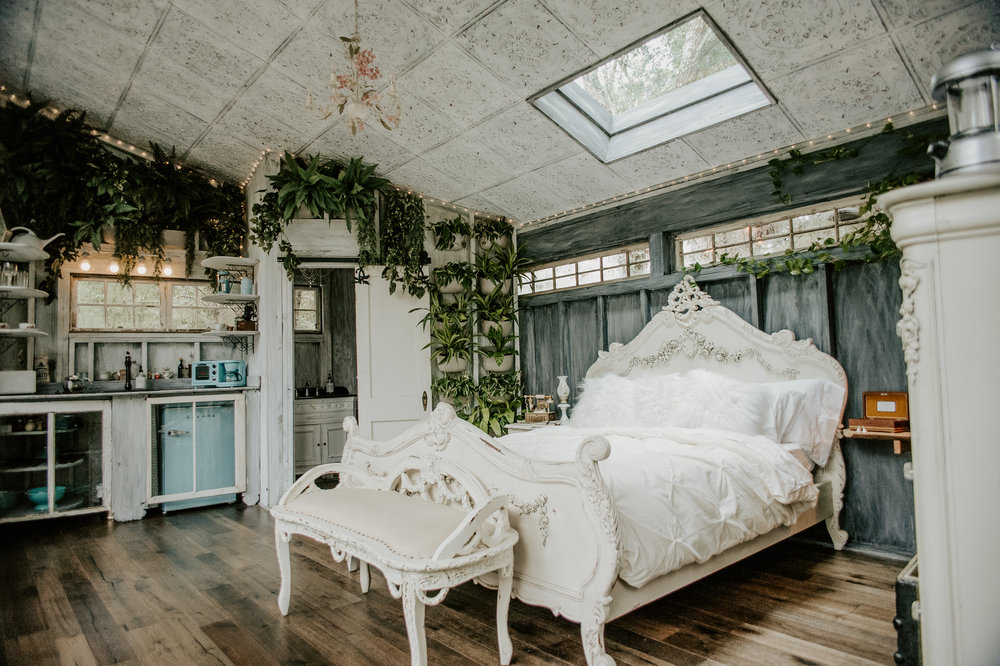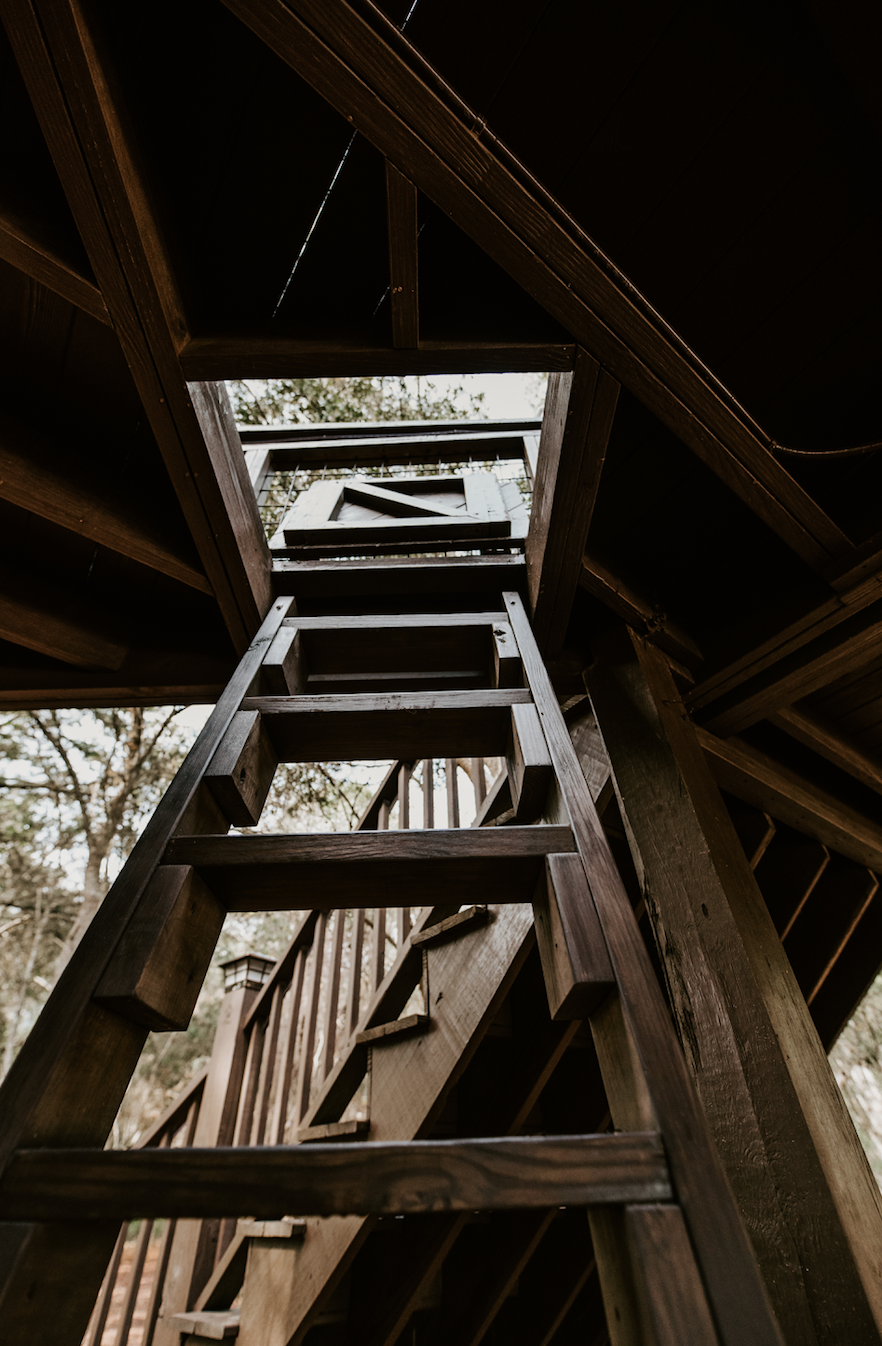 Charleston, SC | standard luxury
2 guests - 1 bedroom - 2 beds - 1 bath
Your sanctuary of relaxation, rest & reconnection surrounded by nature. Stunning panoramic view of mossy grand oak trees and tranquil tidal creek from 2-story window wall!
LIVE LIKE KINGS & PLAY LIKE KIDS in this extraordinary, luxurious treehouse hidden in 30 acres of Lowcountry paradise! Heating & AC, fireplace, record player, green wall, swinging bed, outdoor shower & MORE!
+ Read more about our 30-acre farm
OUR FARM IN CHARLESTON, SC
Welcome to your forever place in Charleston. This haven for the egret, the bald eagle, the white-tail deer... the expanse of golden sweetgrass & blue horizons is teeming with timeless beauty & energy and allow you to be immersed in nature while being surrounded by luxury comforts in inspiring spaces handcrafted for connection.
Our treehouse has been likened to a time machine; it allows anyone of any age to feel like a kid again. Transport your spirit, and feel a thrill that can only be discovered in a thoughtfully designed treehouse nature retreat. Experience the one-of-a-kind blend of youthful bliss and grown-up luxury for yourself. The faster you get here, the sooner you change your pace and unwind in our woodland paradise.
Our 30-acre farm is the perfect setting for your...
magical birthday celebration
kid-free anniversary trip
dream honeymoon
epic friends' trip
timeless, tech-free family reunion
mother-daughter time
Contact us about renting the whole farm for your event.
ABOUT US
We are 14x Superhosts! BOLT FARM TREEHOUSE was named the Most Popular Airbnb in South Carolina! Featured in Architectural Digest, Buzzfeed, Insider Travel, TLC, The Knot, Gal Meets Glam, & more! Welcome to our new 30-acre eco-friendly nature retreat located in Charleston, SC!! Charleston has been named the #1 City in America by Travel & Leisure for the past five years and is known for its rich history, unique architecture, beautiful beaches, fantastic food & more.
Life's most satisfying and unforgettable experiences... the butterflies of true love, the unmistakable thrills of adventure & laughter with friends, the long-awaited exhales of celebration, the precious sparks of inspiration, and the priceless clarity of vision that is available to us when we stop and rest... These are the timeless moments that define our experience on Earth. What do they all have in common?? They connect us to our most primal senses, and we feel fully alive, fully present, and fully reminded of our purpose for living. And we experience them when we pardon ourselves from the busyness of modern life and give ourselves the uninterrupted space required for their realization. These days, seeking out these life-defining moments in settings removed from the never-ending feed of digital distractions requires intentionality. While our custom-designed treehouses aren't the only place on earth you can go to experience these magical moments, they are some of the few places on earth that have been designed from the ground up to make every bit of this essential space -and the rest, clarity, adventure, and inspiration that thrive here- a reality for you.
Please note, we intentionally do not have wifi, and there is limited cell service in God's country. Truthfully, most of our guests have service but enjoy being able to tell everyone they are visiting a tech-free nature retreat for additional peace & quiet. We encourage you to take a "digital detox" during your stay and check your phone into our 5-star phone resort.
When you are back online, stay connected with us at @boltfarmtreehouse on Instagram & Facebook. Thank you for telling your friends, family & followers about this magical place. We are a small business, and we truly appreciate your referrals.
GUEST ACCESS
Enjoy your private treehouse suite and surrounding areas! Four distinctive treehouses spread out on 30 acres of raw land that you are free to explore. We ask that you respect the privacy of other treehouse guests by not walking through their private area.
INTERACTION WITH GUESTS
Our hospitality team is available around the clock, so you will always get a quick response, a warm smile, and any assistance you need. Tori and Seth enjoy good conversation over a campfire with our guests who upgrade to the VIP Treehouse Experience. Just invite them and they will drop by if available.
ENHANCE YOUR EXPERIENCE
UPGRADE your stay with our VIP Treehouse Experience! Our goal as 13x Airbnb Superhosts is to raise the standard for how amazing vacation can be. The VIP Experience guarantees it.
NEW! Oven-fired pizza with DIY pizza kit for two
Premium bottle of wine delivered to your room
Bolt Farm Treehouse scented eco-friendly candle by Charleston Candle Co.
Access to private fire pit
The complete campfire starter kit
Ultimate s'mores supply kit for two
Bolt Farm Treehouse keepsake autographed by treehouse designers Seth & Tori Bolt
Two Bolt Farm Treehouse coffee mugs
$100 off your next treehouse stay
Click here to purchase this upgrade.
Indoor Fireplace

Screened porch
Kitchenette

Grill & Pizza Oven

Outdoor shower for two
+ Show all 24 amenities
Location
Bed and bath
Hangers
Eco-friendly shower products
Hair dryer
Bed linens
Extra pillows and blankets
Essentials
Indoor fireplace
Iron
Towels, bed sheets, soap, and toilet paper
Eco-friendly shower products
Heating
Central heating or a heater in the listing
Air conditioning
Hot water
Facilities
Free private parking on premises
Dining
Kitchenette
Cooktop
Pizza oven
French press coffee maker
Cooking essentials (Pots and pans, oil, salt and pepper)
Dishes and silverware
Retro mini-refrigerator
Outdoor
BBQ grill
Patio or balcony
Private yard
Guest access
Lockbox
Check yourself into the home with a door code
Private entrance
Separate street or building entrance
Safety features
Fire extinguisher
Carbon monoxide detector
Smoke detector
First aid kit
Not included
Unavailable: TV
Unavailable: Washer/dryer
Available for extra charge: Wifi
Permit # ZSTR-05-19-00046
LICENSE #: LIC-10-18-195941